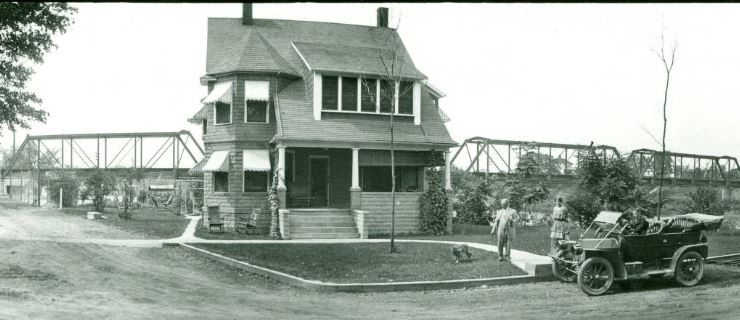 About Historic Homes of Defiance
Preserving Defiance History Since 1999
Since 1999, Historic Homes of Defiance has worked to inventory the historic homes found in Defiance County and the commercial structures of Defiance City's Original Plat.  We have worked to place the entire downtown of Defiance on the National Register of Historic Places.  Our "Save Our School" Committee worked diligently to bring attention to the historic Defiance High School when it was faced with demolition in2018.  Volunteers placed the school on the National Register of Historic Places.  We maintain an office currently in the old Legion Building on Clinton Street where we store our research and hold board meetings. 
– In Progress!  Historic Nomination for Library/Original Plat Neighborhood
– Town Clock and Triangle Park Beautification
– Home & Garden Tours / Local Land Mark Searches
– Historic Home's Calendar Project
– Heritage Walking Tour Brochure
– Guest Speakers & Field Trips
– Home & Building History Research
Home Tours consist of a half hour or less business meeting, a history of the home or building we are meeting at and a tour of the property at the owner's direction.  Anyone is welcome at the Board Meetings where we focus on the business of the group.
Event Information:
November Meeting

7:00 pm648 Clinton St. Old Legion Building

Due to COVID we will have this meeting at our office.  If the weather is good, bring a lawn chair and we will meet outside for best COVID practices.  If not, we will meet inside and social distance.  The main goal of this meeting is to present a slate of officers for December voting.
President
Cam Williams
Vice President
Linda O'Donnell
Treasure
Diana Bauer
Secretary
Anne Chase
At-Large Board Members
Trish Sanford-Speiser – Past President
Ryan Soukup
Jan Carrol – Media Liaison
Triangle Park/Clock Tower
Gene Smith & Ralph Hahn
Historic District/Flood Poles
Cam Williams & Trish Speiser
Walking Tour Project
Ginny Sterling

Please fill out our membership form if you would like to become a member of Historic Homes of Defiance.